What if new donors for your cause are actually easier to find than you think?
Janica from Humanity in Practice didn't think that was the case.
Until she was in the middle of a pandemic knowing that her only way to keep growing her organization was through new and innovative thinking about fundraising. And while new donors weren't the primary focus, it was the outcome of a successful first online fundraiser for her cause, here's what happened.
Like most organizations, prior to the pandemic, HIP hosted a single in-person event which brought in the majority of their funding for the year. Then, the pandemic hit and everything changed. 
Curious about how to move forward, and running out of ideas about how to fundraise despite not being in the same room as her donors, Janica attended an online webinar and learnt about Trellis – her next step to raising funds online. This would allow Janica to diversify her fundraising and hit her goals despite the circumstances. 
And so, she turned to an online auction and raffle. Donors loved how easy it was to participate, and the simplicity of the technology, particularly, the ability to set an auto-bid on an auction item. And while this online fundraiser accomplished Janica's goals of raising funds for HIP, she didn't anticipate this would attract new donors to her cause. 
See, the easy-to-use platform made it simple for existing supporters to share a link with their networks to encourage others to bid in the auction or buy a raffle ticket. The low barriers to entry with this fundraiser meant that HIP raised more than expected, and additionally, they were able to identify new donors for their cause. 
Typically those who are new to your organization may be hesitant to attend an in-person event, but bidding on an auction item they are interested in, or buying a raffle ticket is a simple first introduction to the organization. After that initial step, it provides an easy way for your organization to continue reaching out and developing relationships with these individuals.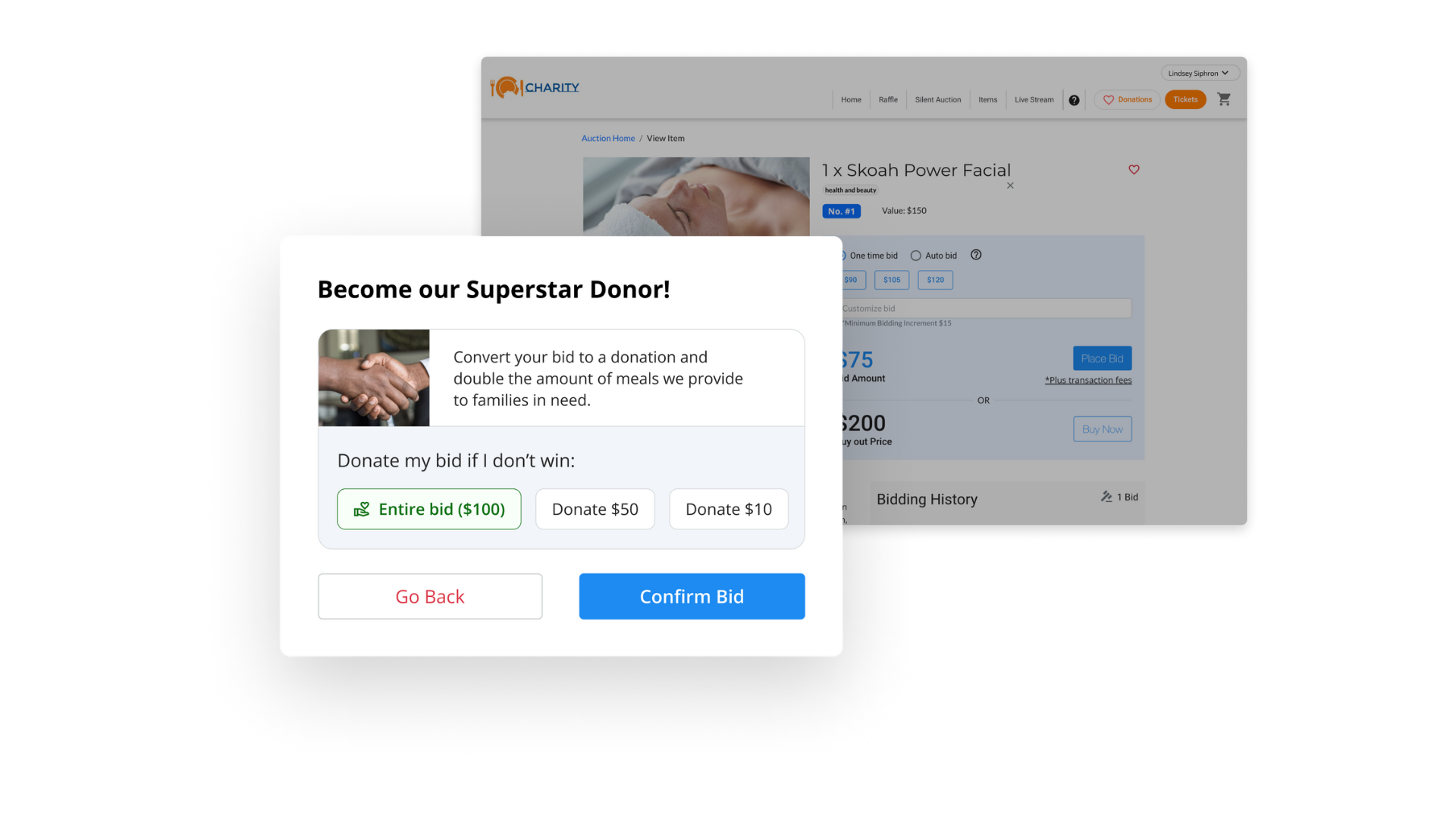 Knowing the importance of securing new donors, Trellis has made it even easier with the introduction of Donate Your Auction bid. This new fundraising technology allows you to ask donors if they'd like to donate their bid if they don't win the item. This simple and strategic prompt is allowing organizations to raise up to 10% more for their cause right away, without any effort at all. 
And so, in the middle of a pandemic, when in-person events, which were once the sole way that Humanity in Practice raised funds for their cause, had to make a sudden halt, the organization still surpassed their goals and identified new donors. And, the best part is, you can too. 
"The technology was user-friendly, and the design was incredible and so easy to use. I'm not the most comfortable with technology but Trellis made it a breeze" noted Janica. And, "the support was fantastic. I was so nervous about how to draw my raffle winner and get all the reports to my provincial gaming group, I woke up in the night thinking about it. But, the next morning I got to my computer and the first email there was about how to run a draw, and the second was all the reports I needed to submit to gaming. I didn't have to do a thing." added Janica. 
Janica made the most of Trellis, with its competitive pricing, user-friendly and simple technology (which her donors enjoyed too!), and so can you! 
To learn more about how Trellis can help you grow your organization, connect with our team today.
Connect with Trellis