In order to reach new donors, it's not only important to understand why millennials give, but also how they prefer to give. Here are four giving mediums to consider:
1. mobile payment services
Mobile-friendly is millennial-friendly. Just about every millennial has a smartphone in their pocket. Mobile fundraising enables more convenient giving in a quick, convenient, way.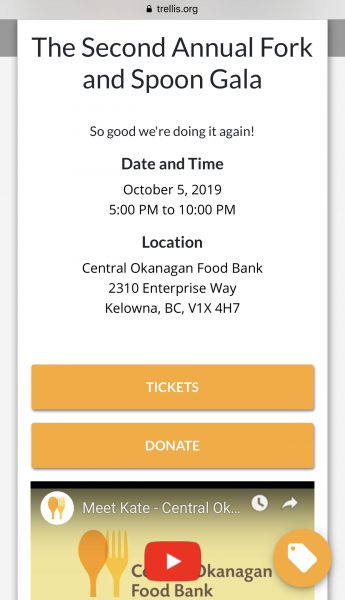 Simplify giving and fundraising with trellis's donor-focused event pages that look beautiful on mobile, just like The Central Okanagan Fork and Spoon Gala made.
2. online & social giving
Undoubtedly, Millennials take advantage of the digital revolution. They rely on mobile-friendly websites, social media, search engines and instant access to mobile technology. Consider the success of online events such as #GivingTuesday. Your organization can use Facebook, Instagram, Twitter and other social media to spread awareness, amplify your message, and encourage peer-to-peer fundraising.
3. monthly giving
The Millennial Impact Report found that 52% of millennials are interested in monthly giving. By setting up a campaign, use this to give greater stability to your organization by offering options for people to give smaller but more recurring gifts.
4. birthdays, holidays & special events
More recently, millennials are asking for donations rather than gifts for birthdays, end of year holidays and special events. Your organization can benefit from this trend by creating event fundraising initiatives that provide avenues for alternative giving.
Embrace change for new opportunities
Millennials are fearlessly changing the way we go about traditional giving. While their growing influence may bring challenges, it also brings new opportunities.
Embrace the change of moving from cheques and mail-out newsletters to online giving, automated bookkeeping, and social media sharing.
Be flexible, adaptable, and innovative, and you'll open fresh opportunities to up and coming generations to promote growth in your nonprofit organization.
Not sure where to begin? We'll show you how trellis can support your nonprofit through online event fundraising campaigns.