We've never seen a time like this before in our world, and the impact that it's having on charitable organizations is significant. Marketing fundraising events effectively which can be challenging at the best of times, has suddenly become even harder… but what if it doesn't have to be?
We created our 5 foolproof ways to market your next fundraising event blog a few months ago. It was full of great ideas to share the word about your fundraising events. But, like everything else it doesn't seem as relevant now. So, we're giving you a 2.0 version, 5 ways to market your next fundraising initiative amid COVID-19, these ideas have been created with virtual events in mind, but can be used regardless of what type of fundraiser you are currently holding!
PS. Keep reading to the bottom to find out what our BONUS way to market your next fundraiser is.
So … ready to jump right in?
1. Engage in third party fundraising options. 
You've got keen supporters, get them to help you reach your goal!
We've seen the power of third party champions many times before, and during our current crisis, we're seeing it again. Empower your third party champions to raise funds, and help you reach your goal! Encourage them to create their own fundraising page to promote and sell tickets for your event, or to simply raise funds. Celebrate and promote what they are doing as much as you can, so that you can help them experience success and ultimately drive more donations to your cause. And hey, it might spark some other third party champions to get involved too! You can learn more about engaging third party champions here!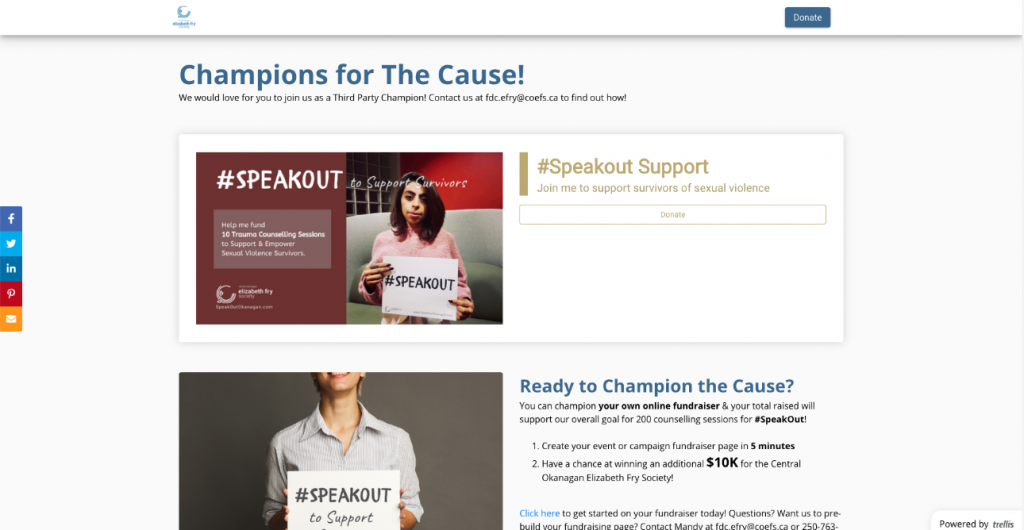 2. Optimize your email marketing tactics 
Email marketing is NOT dead. It's actually still really effective, you just have to do it right.
You already know that catchy subject lines, mobile-ready formats, and strong branding works. But in order to make your emails effective for your marketing strategy, you need to make it easy for people to engage.
Start by spelling out the details. If you're hosting a virtual event, you may want to spend some extra time telling guests what they can expect as it may be their first virtual event, or yours! Keep it clear and concise, but tell your email readers why they need to attend, when and where to go, and give them a link to RSVP right in your email! (You can take it up a notch and include a donate button too if you're feeling extra ambitious!) When we make it this easy for our readers, we're giving them no excuse not to attend.
3. Take your social media to the next level. 
Social media is noisy, so be even noisier.
We get it. When you don't have a budget to put towards social media ads, and you're constantly fighting with all the other noise on social media, it can be overwhelming. But why not try some of these tactics to stand out and make a splash! Research is showing that social media usage is increasing right now, so capitalize on the opportunity while you can!
Offer event giveaways or discounts to your followers. It's working on Instagram right now so why not jump on the bandwagon?! Ask your followers to engage with you in some capacity for a chance to win free or discounted virtual event tickets. For a relatively small cost, you'll be able to get more eyes on your event, and create even more awareness about what you are up to!
Promote donation options. While you're drawing more people to your social pages, make sure to remind them how easy it is to give! Even if supporters may not be able to attend, they may feel inclined to give, especially if you remind them how easy it is to do so!
Remind followers of the 'why'. While you're getting more attention to your page because of your event, make sure to keep sharing your mission, the impact your cause makes and stories of life change through your cause. With posts like this, your supporters will feel inspired to join your virtual event!
But, as you approach social media, make sure it still feels like your own. Remember it's your platform to represent your organization however you would like! Use your voice!
4. Engage with strategic sponsorships for your event. 
Fundraising is hard enough as it is, so let's call on the right people to make it easier.
Finding sponsors can be hard, but with a targeted and tailored approach, it might not have to be as hard as we think! For fundraising events, the 'spray and pray' approach is typically the way we start. If it's a for-profit business we'll throw out the ask and get used to hearing a lot of no's. But things are different across the board, so why not approach sponsorships a little differently?
Start with organizations you already have a relationship with. Scan your CRM and pull out any businesses you've worked with before to start the asks. And as you're making your asks, be strategic in what you are asking their sponsorship to entail. Especially as businesses also face the impacts of COVID-19, find ways for them to support you with in-kind services as part of a sponsorship instead of money. Consider what services you could use some help with, and find the right businesses to do the job! And, when you're making your ask, make sure to share your organization's story. Take the time to educate them on what you do, who you serve, and the impact your organization makes. Even if they can't support you this time, with more awareness of your cause, they will be inclined to jump on board next time!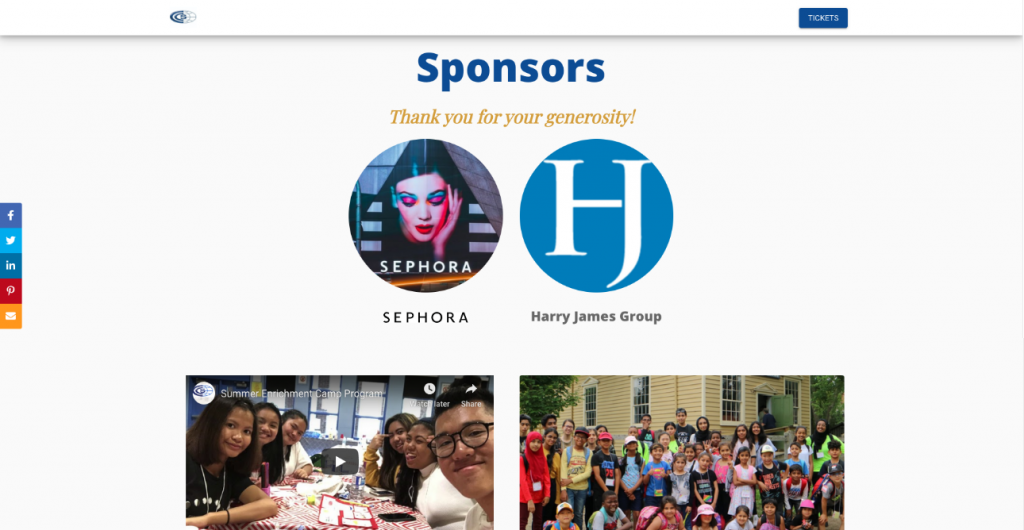 5. Offer online fundraising options.
In the world of technology, we can do anything in an instant. Give supporters a chance to donate to your cause instantaneously too.
When setting up your event page, make sure donation prompts are at the forefront. When people believe in your organization, they are more inclined to give, so as they are reading about your upcoming virtual event, make the donation options easy and accessible. And, as a bonus, for supporters that can't attend your event, you're still giving them ways to get involved and support your cause! Win-win!
We also recommend using a thermometer to measure your fundraising success. It'll help people visualize your progress, and create a sense of urgency to reach your fundraising goal!
Bonus! Add additional revenue streams. 
Marketing and fundraising unite! Blend your strategies leading up to your event to secure your funding and raise more for your cause. 
In times like this standard donation requests may not be enough to hit your urgent fundraising goals. We'd encourage you to look for innovative ways to drive additional revenue and show value to your community. This could be in the form of eCommerce sales, virtual silent auctions, or presale tickets to future events.
By creating a comprehensive plan, you'll be able to make up for the lost funds that you usually receive through marquee events. Adding additional revenue streams might sound daunting, but we've got you covered. Download our Alternate Fundraising Strategies Resource Guide to help you get started.
You'll be able to use your trellis page to host these additional revenue streams, keeping it easy for your supporters. 
We hope these 5 ways to market your next fundraiser successfully will help you get started as you navigate fundraising amid COVID-19. As you are putting these into practice make sure to reach out to our team and let us know how it's going!
At trellis, our platform has been designed to help you do all of these things with ease.
Don't believe us? Book a demo and we'll show you how.