Keeping your donors engaged during a fundraising event is crucial to raising funds and reaching your fundraising goal. It can be a challenging task to find new and creative ways to raise money and keep donors engaged. This is where fundraising games come in. Fundraising games are an excellent way to engage donors, build awareness, and raise funds for a cause or organization. With the right game, you can turn fundraising into a fun and engaging activity that people will look forward to participating in. In this blog post, we'll explore some tried and tested fundraising games that can generate revenue for your organization.
Make Selling Tickets a Game with Affiliate Marketing Links
Maximize your tickets sold all while making ticket selling a game! With affiliate marketing links you can keep track of what sources sell the most tickets and create an engaging fundraising game. With your organization supporters, give each one a custom affiliate link and set a goal of how many invites you want them to send out. Give them the email template, and set your expectations. Then each week, give an update on how many emails were sent from each person, and who the current winner is for inviting the most people. When the event ends give a prize to the winner! To learn how to use the affiliate marketing links click here.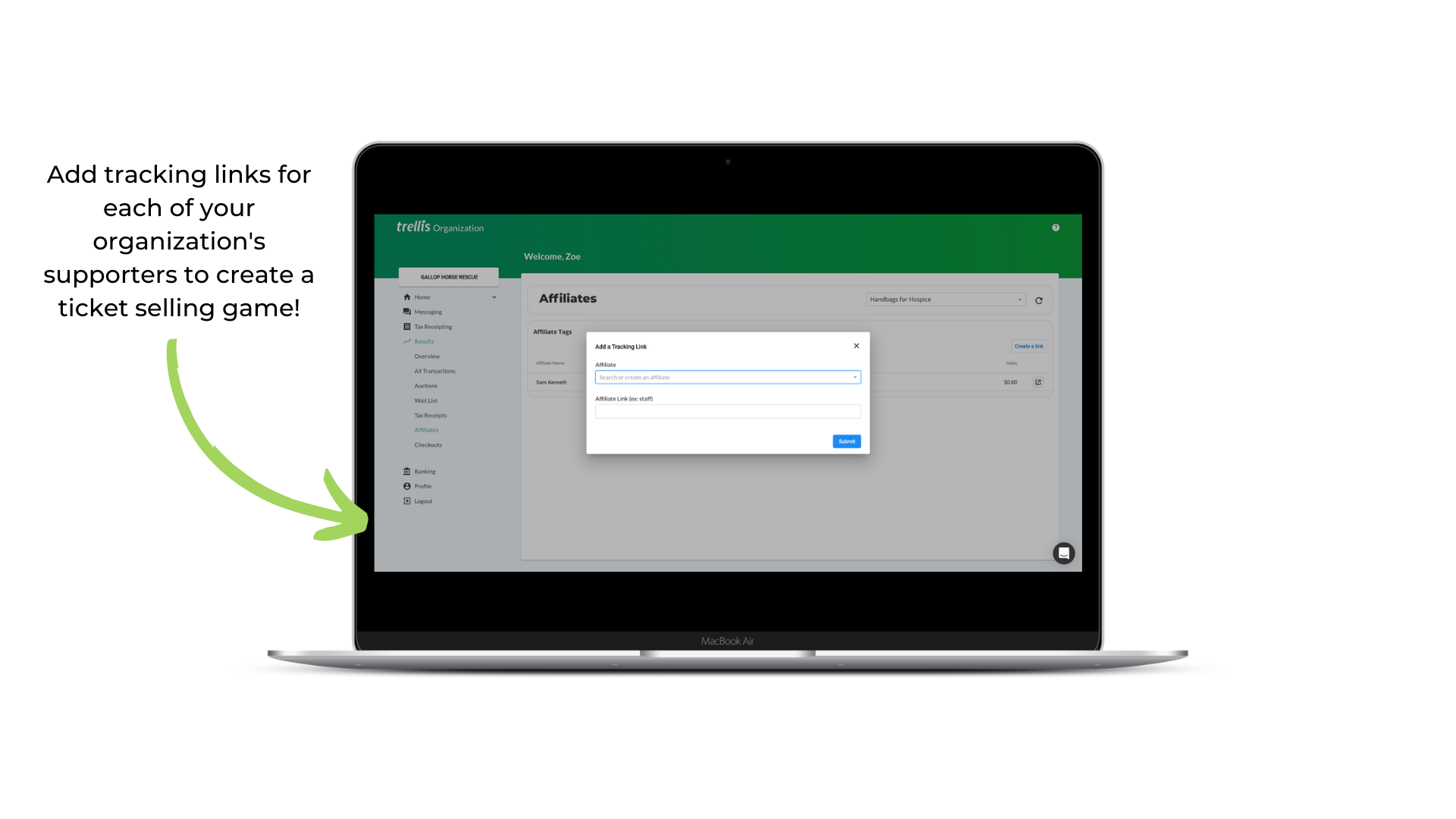 Use Your Silent Auction as a Competition
Drive more bids and create an entertaining atmosphere by making your silent auction a game at a larger main event. Set it up by making each table a team playing against each other and the table with the most bids wins a prize for everyone to enjoy! This could be fun shareable food or a bottle of wine. Incorporating this fundraising game during your silent auction will make donors feel appreciated and more excited to return for your next event.
Create a Voting Competition For Gala Songs
Here's a fundraising idea that will get everyone talking! Create an add-on to set up voting options for your gala, golf tournament or fundraising event with different songs to choose from. Then you can ask participants to vote on what songs they'd like to hear the entertainers play throughout the night. Keep the voting price low, this way donors will continue to vote and your organization will be able to raise additional funds.
Use a Mystery Item in Your Live Auction to Kickoff Bidding
Our favourite fundraising live event tip is to include a mystery item to kick off the live auction. Maybe it's a child's backpack or homemade butter tarts made by a sweet volunteer. The item is mission-connected or event-themed and it's of low value ($50-$100). Your benefit auctioneer kicks off bidding at $1 or $2. A fun way to get everyone's hands up in the air and get the room excited for the special night ahead!
Create Buzz With a Raffle for a Prize
To get started, you'll need to gather a prize that you think people would be interested in winning, such as gift cards, technology gadgets, or experiences. To make your raffle more successful, consider offering a tiered pricing structure, where the price per ticket decreases as the number of tickets purchased increases. A prize raffle can be a low-cost and hugely popular way to raise funds for your cause while also offering an exciting opportunity for supporters to win a prize. For 25 Marketing Tactics To Skyrocket Your Online Raffle Ticket Sales click here.
Give Your Participants the Potential to Win Big With a 50/50
As the name suggests, the prize for the raffle is 50% of the total amount raised, with the other 50% going towards supporting your cause. This type of online fundraiser is easy to organize and can be very appealing to supporters, as the prize money can potentially be quite substantial. You can also consider offering incentives for those who purchase more tickets, such as entry into a special drawing or a discount on future purchases. A 50/50 raffle can be an easy and effective way to raise funds for your cause while also offering the potential for a large prize to one lucky winner. For a step by step guide to running a 50/50 raffle click here.
Picking Fundraising Games for Your Event
Fundraising games can be an effective and enjoyable way to raise money for an organization. They can bring people together, create a sense of community, and generate excitement around your cause. With the right fundraising game or idea, you can not only raise funds for your organization but also raise awareness about your cause and encourage others to get involved. So whether you're planning a charity event or looking for new ways to fundraise, consider reaching out to our team at Trellis for more fundraising ideas and fundraising solutions. Reach our team here.