No matter what kind of organization you are a part of, finding creative and effective fundraising ideas can be a challenge. While traditional fundraising methods can be successful, they often require a lot of time, effort, and resources. That's why we've compiled a list of online fundraising ideas that are not only fun and engaging but have also been proven to work. We've got you covered with a variety of innovative and creative fundraising ideas. So, no matter your goals, keep reading to discover some fresh and exciting ways to raise money for your organization through fundraising events.
1. Online Silent Auction
An online silent auction can have great fundraising potential, especially if you have unique experiences to offer. Silent auctions can be run as a stand alone event or as an add on to a larger fundraising campaign. To get started, you'll need to gather a variety of items that you think people would be interested in bidding on, don't forget to consider asking sponsors to donate items. Not only does an online silent auction raise money for your cause, but it also offers a fun and exciting way for supporters to engage with your organization. In addition, hosting your silent auction online allows it to be accessible to a wider audience. Spread the word far and wide through the use of direct email and social media.
To blow your silent auction out of the park ensure you notify donors when they are outbid and give them easy options to keep rebidding. Learn more about how you can set this up by reaching out to our team here.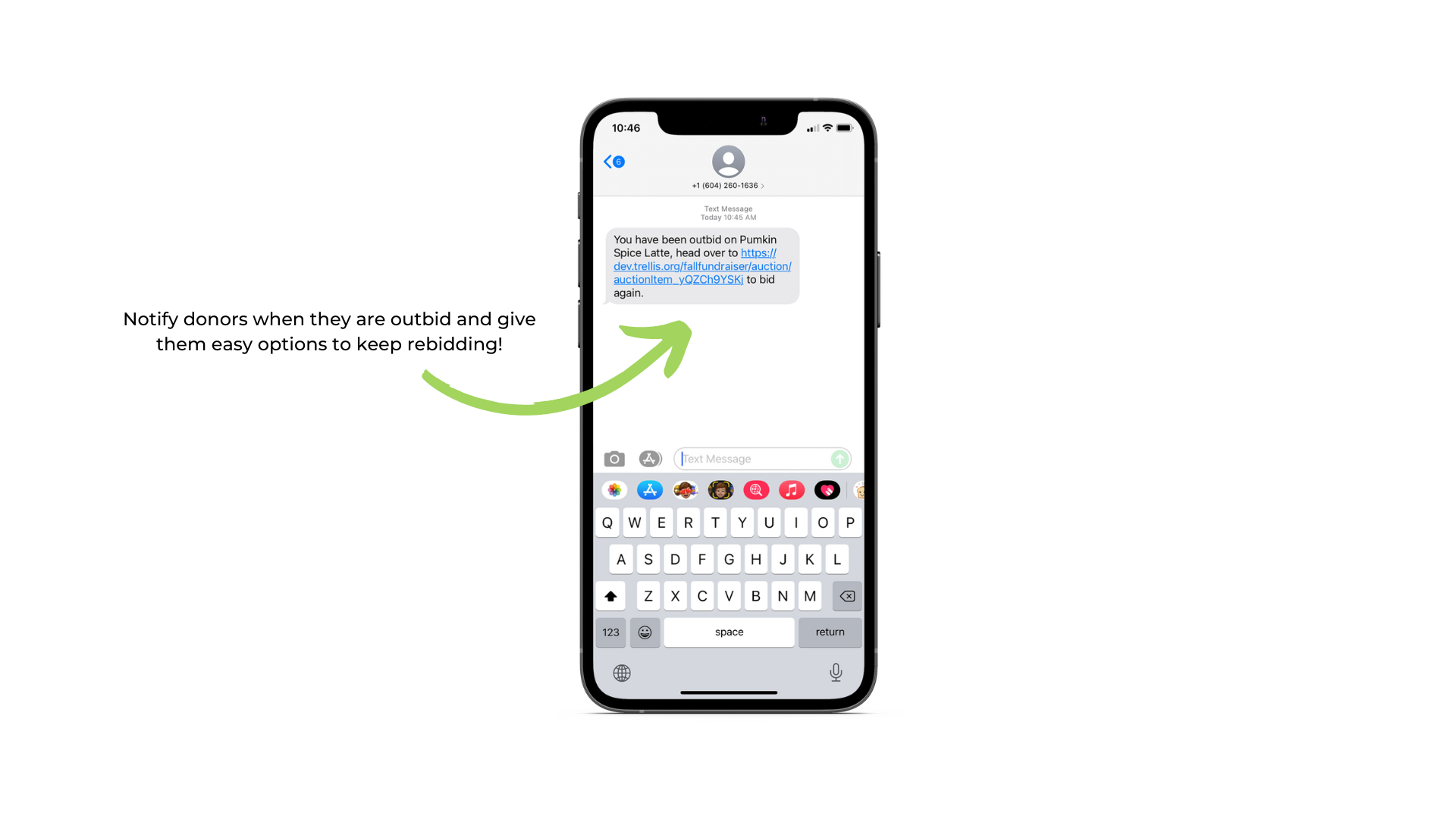 2. Gala
This type of event can be a formal dinner, a cocktail party, or even a masquerade ball. To make the most of this fundraising event, you'll need to secure a suitable venue and plan a program that includes a keynote speaker and entertainment. Don't forget to offer sponsorship opportunities to local businesses to help cover the costs of the event. To raise additional funds on top of entrance fee ticket sales don't forget to add other revenue drivers to your gala such as an auction or raffle. A fundraising gala can be a thrilling affair that offers a memorable and enjoyable experience for your supporters, and can also provide an opportunity to showcase your organization and its impact.
Here's an idea! You could involve your sponsors by asking them to donate bottles of wine. Then, your first 100 ticket purchasers receive a complimentary bottle of wine to enjoy at their table during your event!
3. Golf Tournament
A fundraising golf tournament is a perfect way to combine outdoor fun with a good cause. Invite your supporters to a day of golf, socializing, and giving back to your community. To make the most of a golf tournament, organize a fun-filled program that includes contests, giveaways, and maybe even a raffle. To increase engagement and excitement, create unique challenges that encourage attendees to donate. A fundraising golf tournament can be a lighthearted and enjoyable way to maximize funds raised for your cause, all while providing a great experience for your supporters.
Don't forget to create add ons to raise additional funds! For a golf tournament, you can add on mulligans as seen below.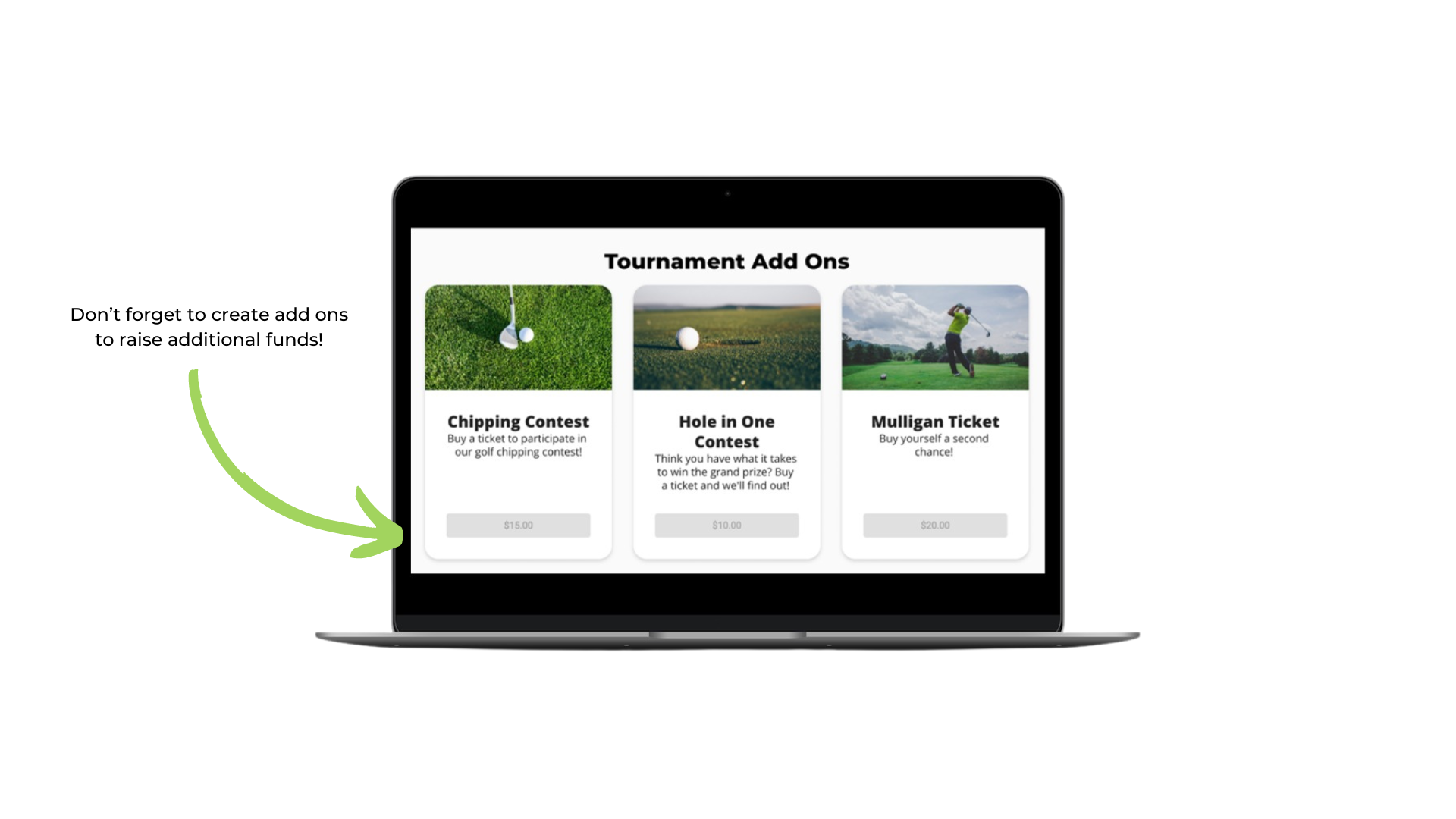 4. Prize Raffle
A prize raffle is a simple and effective way to raise money for your organization or cause. It's easy to organize and can be a fun way for supporters to contribute to your cause while also having the chance to win a prize. To get started, you'll need to gather a prize that you think people would be interested in winning, such as gift cards, technology gadgets, or experiences. To make your raffle more successful, consider offering a tiered pricing structure, where the price per ticket decreases as the number of tickets purchased increases. A prize raffle can be a low-cost and low-effort way to raise funds for your cause while also offering an exciting opportunity for supporters to win a prize. For 25 Marketing Tactics To Skyrocket Your Online Raffle Ticket Sales click here.
5. 50/50 Raffle
As the name suggests, the prize for the raffle is 50% of the total amount raised, with the other 50% going towards supporting your cause. This type of online fundraiser is easy to organize and can be very appealing to supporters, as the prize money can potentially be quite substantial. You can also consider offering incentives for those who purchase more tickets, such as entry into a special drawing or a discount on future purchases. A 50/50 raffle can be an easy and effective way to raise funds for your cause while also offering the potential for a large prize to one lucky winner. For a step by step guide to running a 50/50 raffle click here.
If you want to use your 50/50 or prize raffle to acquire more donors and collect donations try out Trellis' donation augmented online fundraising tools.
6. Gift Boxes
Create and sell activity gift boxes for your donors! The items inside can vary based on your donor base, but pick a theme that feels relevant to your organization and would be fun for your network to participate in. Try an activity box, and fill it with challenges, games, and activities to try! Encourage participants to share their progress on social media so you can cheer them on as you go. And make sure to partner with sponsors to fill the boxes with great items. Give donors clear instructions on how to pick up their boxes. You can even tie in the box items to a virtual aspect!
7. Cooking Class
A cooking class fundraiser provides a fun and educational experience for your supporters. This type of event can be hosted on a virtual platform, where attendees can learn how to cook a specific dish or cuisine from a professional chef or cooking enthusiast. To make the most of your cooking class, choose a theme that is popular and has broad appeal, such as Italian cuisine or healthy cooking. Sell tickets for your event online, and be sure to promote it on social media and through email campaigns. You can also offer incentive packages that include ingredients or tools needed to participate in the cooking class. A cooking class fundraiser can be a creative and exciting way to raise funds for your cause.
8. Live Auction
A live auction is an exciting and engaging way to raise money for your organization or cause. It can be an enjoyable experience for your supporters, who get to bid on unique and one-of-a-kind items or experiences while also supporting your mission. To make the most of your live auction, gather items or experiences that have high perceived value and broad appeal, such as vacation packages, artwork, or celebrity meet-and-greets. Make sure to enlist an auctioneer who is skilled at engaging the audience and maximizing bids. To ensure a successful live auction, consider offering incentives like VIP seating or an exclusive pre-auction cocktail hour to your top supporters.
Our favourite live auction tip is to include a mystery item to kick off the live auction. Maybe it's a child's backpack or homemade butter tarts made by a sweet volunteer. The item is mission-connected or event-themed and it's of low value ($50-$100). Your benefit auctioneer kicks off bidding at $1 or $2. A perfect way to get everyone's hands up in the air and get the room excited!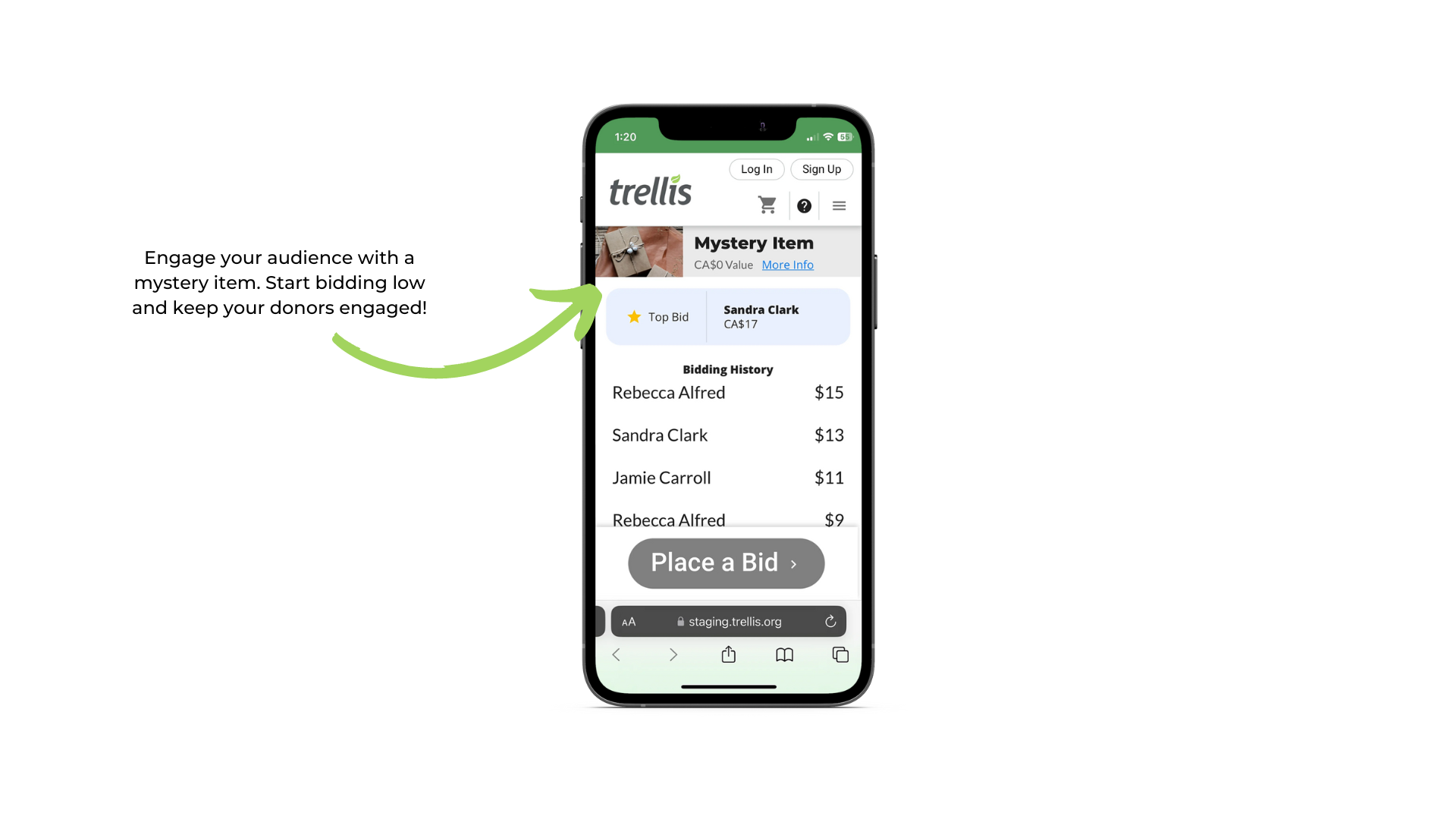 9. Donation Campaign
With the rise of online giving, setting up a donation campaign has never been easier. To create a successful online donation campaign, start by identifying your target audience and creating a compelling message that speaks directly to them. Use storytelling and multimedia like videos and images to bring your cause to life and inspire supporters to take action. Make it easy for supporters to donate by setting up a branded donation page. Share your donation page widely through email campaigns, social media, and website banners. Consider adding incentives for donors, like a special thank-you video or exclusive content that showcases your impact. Regularly update your supporters on your progress and thank them for their contributions to build a sense of community and show the impact of their support.
10. Selling Merchandise
Not only does selling merchandise provide a revenue stream, but it can also help spread awareness of your mission and build a sense of community among your supporters. Ensure you are creating high-quality products that are aligned with your mission and have broad appeal. This could include t-shirts, stickers, tote bags, or other branded items. You can also sell your merchandise at events or partner with local businesses to increase visibility and reach. To maximize your profits, keep your costs low and be sure to set prices that are competitive yet profitable.
Picking a Fundraising Event to Raise Money for Your Organization
There are creative fundraising ideas to suit every budget, audience, and mission. When picking your fundraising event it's important to be creative and think outside the box, but also to stay true to your organization's values and mission. Remember that the key to a successful fundraiser is to engage and inspire your supporters, and to make them feel like they are part of a community working towards a common goal. By implementing some of these unique fundraising ideas, you can not only raise funds for your organization but also build awareness and support.