Online silent auctions are becoming a very popular tool in the fundraising toolkit and for good reason! Whether your online silent auction is an add-on to an online or in-person fundraising event (perhaps a gala!) or a stand alone virtual fundraiser silent auctions can be a powerful tool for raising money. But how can you ensure you are maximizing your efforts and bringing in as many funds as possible for your organization? Read on to hear our top tips and tricks to make the most out of your silent auction and ultimately raise more!
Triple Donor Engagement Through Notifications on Silent Auctions
When you automate donor notifications and remind your donors when they're outbid or that the silent auction is ending soon it will inspire more auction activity from your donors. When they get that notification saying that they are outbid ensure they have easy options to keep rebidding, make it as easy and user friendly as possible for your donors to engage and interact with your online auction item!
Ask Donors to Change Their Online Silent Auction Bids into a Donation
Imagine what would happen if every bidder that doesn't win one of the silent auction items got a text notification asking if they'd like to turn their highest bid into a donation for the organization. They were already planning to give that amount, so this ask should be simple and the results will be game-changing!
Use the Buy Now Feature to Sell Auction Items for 150% Of The Retail Value
Include a Buy Now option for your donors. We recommend setting the price at 150% of the retail value.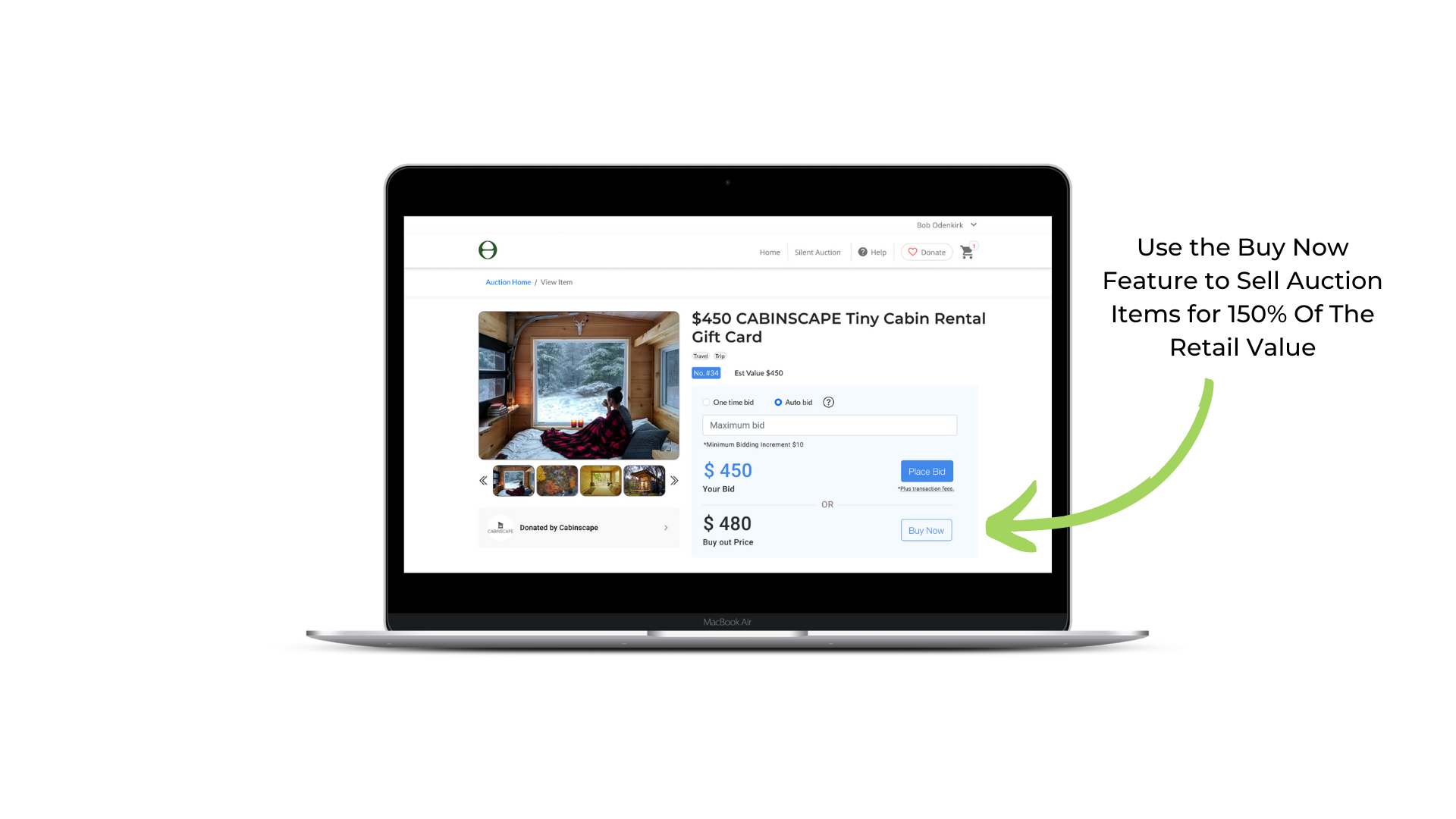 Selecting the Right Online Auction Platform
Before these other tactics, the first thing you're going to want to think about is finding a platform that can support all of the things we've just talked about, and actually, maybe this is the only thing you need to think about as the right platform will have these features built in and ready to use. Finding the right fundraising site will singlehandedly have the ability to change the impact of your success, especially if you want to start raising 25% more for your organization. At Trellis, we've built our platform to do all of these things specifically for you. Connect with our team here.
Raise More With Your Online Silent Auction
An online silent auction can be a powerful fundraising tool for your organization, but only if you take the time to execute it well and take advantage of mobile bidding tools. By following the tips outlined in this article, you can maximize your auction's potential and generate more bids and donations. Remember to set clear goals, create compelling auction items, choose the right platform and promote your auction effectively. With these strategies in place, you can make the most out of your online silent auction and achieve your fundraising goals!