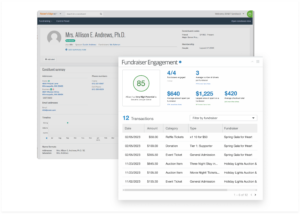 May 3, 2023: Trellis Social Enterprise Inc. is proud to announce the official launch of its highly-anticipated Raisers Edge NXT pilot program in collaboration with Blackbaud. As a member of the Blackbaud Social Good Startup Program since early 2023, Trellis has developed the first-ever integration between the renowned non-profit CRM platform and its North American-based fundraising software.
This integration is a game-changer for non-profit organizations currently using both Trellis and Raisers Edge NXT, as it allows them to seamlessly collect and analyze data on their supporters' engagement with fundraising activities. By leveraging this valuable data, organizations can easily identify high-potential donors for their cause and nurture them toward becoming lifetime supporters.
Raiser's Edge NXT is the leading fundraising and donor management software solution built specifically for nonprofits and the social good community. Spanning over 60 countries, and boasting millions of users, the software strives to provide valuable insights and data for its users, making this integration with Trellis a natural fit. 
Similarly, at its core, Trellis is committed to developing innovative tools and software that help organizations raise more with their existing fundraising practices. The platform currently supports customers with a range of tools including ticketing, donations, raffles, auctions, and e-commerce. Moreover, through strategically designed donation upsells, Trellis users have seen a 20% increase in fundraising revenue, setting it apart from other fundraising platforms.
Justin Goodhew, CEO and Co-founder of Trellis, commented, "As a fundraising solution, my team and I are committed to helping organizations raise more. We believe that integrating with tools like Raisers Edge provides organizations with the insights they need to grow their fundraising, well beyond that incredible 20% bump we're already seeing."
Trellis is actively seeking additional organizations to join the pilot program and experience the benefits of this groundbreaking integration. Interested parties can email sales@trellis.org for more details. 
With this announcement, Trellis is leading the way towards a more modern approach to fundraising that empowers non-profit organizations to reach their full potential.