Over 700 households tuned in to The Rotary Foundation's Virtual Fundraising Gala for zones 28 and 32 on May 12th. The gala, organized by Peter Schultz from district 5060 was a wildly successful celebration of the foundation! They raised close to $200,000 throughout the evening through ticket sales, donations and a silent auction. The event was hosted by RI Director Valarie Wafer and TRF Trustee Dean Rohrs and even featured a guest appearance from our Prime Minister Justin Trudeau!
"It went well, everything in one place, people all across zones 28 and 32 could easily buy tickets and participate." – Peter Schultz, District 5060
Seamless Donor Experience
Peter and the team used the Trellis platform to create a smooth donor experience that led to an incredible evening all around. The page not only highlighted the key events and speakers of the evening but also showed the impact of the donations. As well, they utilized the page to display instructions for how individual districts could participate. This made for a straightforward experience at all stages. 
For the silent auction segment, they auctioned off a Gibson Les Paul guitar, signed by Alex Lifeson, the lead guitarist from RUSH!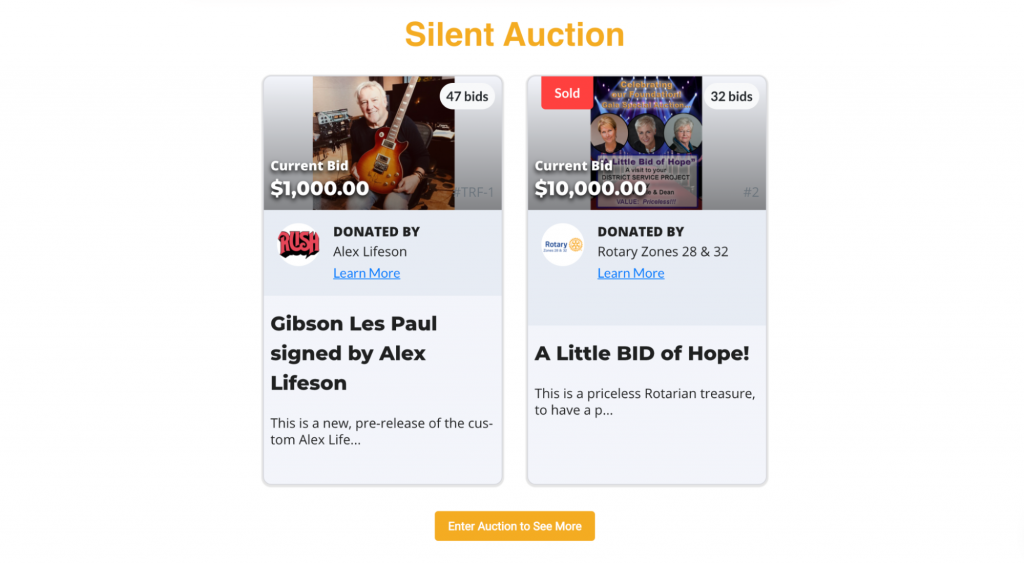 Working Together
To take their event up another notch Rotary used our Trellis partner, Stay at Home Fundraising. Drew and his team helped in organizing an exciting and delightful event and ensured it was a night to remember! 
Sharing Stories
Going a step further, they even captured the attendee's attention by asking Rotarians to share their stories in the form of videos and then later shared the videos during the event! This was a fantastic way to include everyone and showcase the important work that the Rotarians do. 
Want to discuss how you can create a seamless donor experience? Connect with one of our fundraising specialists!