Fundraising events aren't going anywhere, and while events remain a great way to raise funds today, organizations often leave them there. 
But, modern organizations are incorporating tactics to raise 20% more with their events right away, and then using the new Trellis and Raiser's Edge integration to easily identify new high-potential supporters directly in their CRM. This insight is helping organizations prioritize the best individuals to nurture towards becoming long-term donors, creating a sustainable future too. 
Follow the 7 steps below, and discover how you can easily raise more now and into the future. 
For help getting started, connect with the Trellis team here. 
1. Know where your supporters are coming from. 
Using marketing tactics like affiliate links, understand where your supporters are coming from, and focus on the channels that best drive traffic to your events. Raising more starts with an engaged donor base. 
2. Make giving simple and all-in-one. 
Consider the donor experience and how to simplify supporting your cause. Bringing all the elements of your fundraising event to a single page and checkout will make giving easier for you and your donors. 
3. Incorporate strategic donation upsells. 
Ask auction participants to donate their auction bids if they aren't the winning bidder, or prompt supporters to make a donation at checkout when purchasing event and raffle tickets. These tactics alone will raise you 20% more, and with a technology partner like Trellis, you can set them up in minutes. 

4. Try bundles to make giving even easier. 
Bundle up commonly purchased items into a single option to simplify the process for supporters, and to maximize your transaction size. Don't forget to add a donation to the bundle! 
5. Highlight your impact.
The 'why' behind your cause is the ultimate reason individuals choose to support your organization. Leading with your 'why', sharing stories of life change and celebrating the impact of donations will inspire and encourage more gifts. 
6. Use Raiser's Edge to easily identify donors with the highest potential for your organization.
When hosting your fundraisers with Trellis, the online fundraising platform, you'll be able to easily integrate your donor data directly into Raiser's Edge. Without even clicking a button, see which donors have chosen to make a strategic donation upsell, and who to start with when nurturing supporters. 
7. Nurture your supporters into longtime donors.
Using the insights gained through affiliate links and donation upsells, all highlighted in Raiser's Edge, prioritize the highest potential donors first in your nurturing strategy. Personal connections, educating supporters about your cause, and providing opportunities to engage are just the beginning of turning supporters into longtime donors for your cause.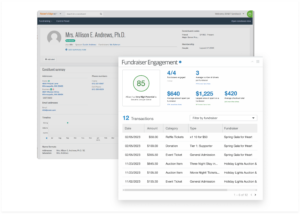 Still have questions? The Trellis team has answers. Connect today.