Silent auctions remain a cornerstone in fundraising, but our research shows that auctions are known to take the most time to set up and execute. However, when they bring in 40% of an organization's fundraising revenue you know they need to stick around. But we believe there is still room to make them better. How can you take your auctions from good to great? How do you raise extra funds without all the effort of securing more items and donors?
Introducing: Donate your Auction Bids. 
With Donate your Auction Bids, your donors will be prompted to donate their bids in the chance that they do not place the highest bid on your items. As your donors are already keen to support your fundraiser, this option allows them to continue engaging in an impactful way. And, best of all, this simple and quick ask is helping charities raise up to 10% more unrestricted funds in their auctions.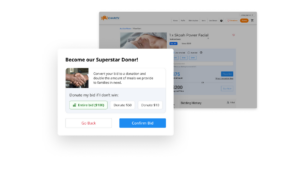 To learn how you can implement this new feature into your fundraisers, book a call with our team here.
Identify a list of high-potential donors with no effort
Not only will the ability to donate your auction bids help you raise more with your current fundraiser, but it is also your opportunity to easily identify high-potential donors for your cause! 
Once, the auction has ended, you'll be able to review the list of individuals who opted to donate their bids and begin nurturing these high-potential donors into longtime supporters of your cause. To make this even simpler, use the Raisers Edge integration, and you'll find all your donors automatically added to your CRM!
Other organizations are raising 10% more and we think you should too. Here's how.
Set up your auction on Trellis. If this is your first time or you've used Trellis for years, getting started is easy. And with our risk-free pricing, you have nothing to lose, but more money to raise.  

Turn on "Donate your Auction bid". Simply turn the toggle, and you're good to go. (It takes much less than a minute, but you wouldn't have believed us if we said seconds.)

Sit back and watch the magic. As donors bid and opt to donate, you don't have to worry about a thing! 
This is your chance to stop wasting lost bids, and instead capture dollars you're leaving on the table. This easy, non-intrusive way will increase your unrestricted funds by $1000s with no effort at all. 
To learn how you can implement this into your fundraisers today, connect with our team here.