Do you want fries with that?
It's the last of our blog series, and we hope you've got lots of value out of our blogs these past few weeks! We've really enjoyed exploring our platform with you and helping you find solutions to increase your fundraising efforts! If you didn't see our last four blogs, make sure to catch up on what you missed here! 
To wrap it up, check out our fifth and last blog in the Supercharge your Fundraising series right here! 
Sometimes it's those little last-minute prompts that really get us. You know, just like "Do you want fries with that?", (it's okay we've all fallen victim to that one…) it's an impulse decision. With your next fundraiser, we encourage you to add impulse donation options for your supporters. And guess what! Yours are way better than impulse fries, they're healthier, and support a great cause! 
Adding last-minute item purchases is easy on trellis and you can do it in a couple of different ways! On the Mackenzie Tour 2020 GolfBC Tournament page, they added item sales to their page, so people can easily grab what they want on their way to checkout. Through this option, the Mackenzie Tour PGA Golf team was able to easily showcase their items for sale while letting supporters know that all proceeds are going to their chosen cause!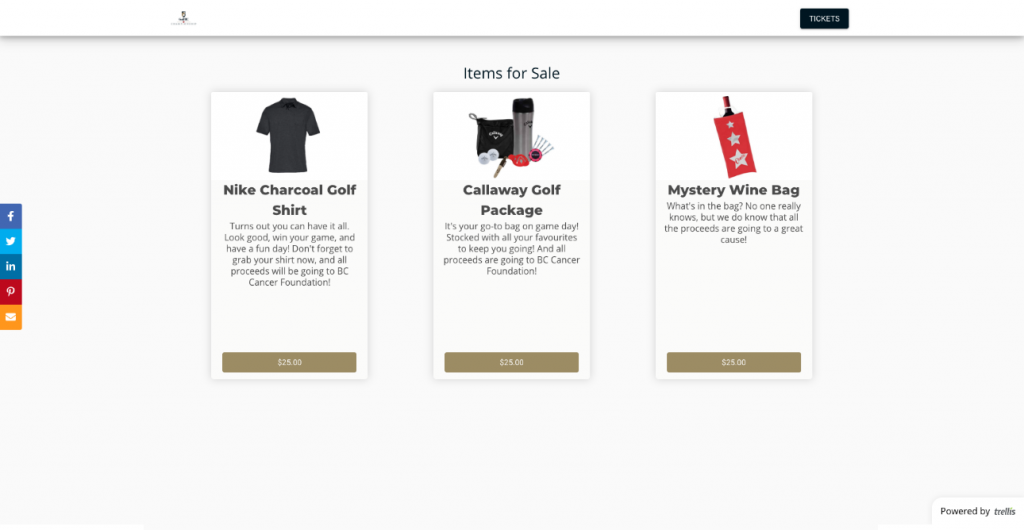 Another possibility: adding donation options at the very end of the checkout process. This is an awesome way to add that little impulse purchase to supporters' orders! They can easily select how much they want to donate, adding more fundraising dollars to your thermometer in seconds!
Our recommendation is to try a little bit of both!
It'll give you a chance to see what option excites your supporters and raise even more money for your cause!   Setting these up on trellis is easy as pie! We mean it! And, if you've already launched your page, have no fear! You can still get in on the action, and add these upsell options right away! Make sure to reach out to our Customer Success team and they will help you get all set up on your trellis page. 
Oh and hey thanks for reading along as we've gone through our latest blog series! If you missed any of the last blogs, you can find them all here! Make sure to keep us posted on your fundraising success stories! We'd love to keep cheering you along!
We've got a lot more exciting content planned for you in the coming months, but if there are more insights around specific topics you'd like to see, make sure to let us know.